Credits and Thank You's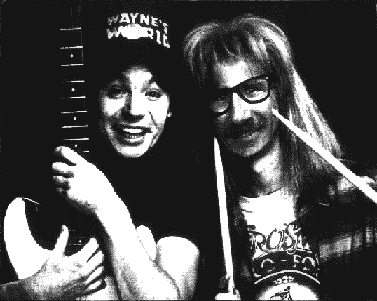 Welcome aboard The Canonball Express! and enjoy your trip to Steve's
World, where the rambling keyboard is mightier than the rusty saber. Hats
off to our aspiring movie stars and small town heroes Wayne & Garth.
While Wayne and I are close personal friends, I must admit right up front that I haven't done all the work that has gone into this project. The contributions of the members of the Video Project Committee are too numerous to mention, especially those of our cameramen, Francis Choung and Greg Frediani.
I offer my heartfelt gratitude to Chris Blai, Cindy Maravito and Jason Walsh (for converting my script into a screen play) and I confer my deepest appreciation to the html programming kids at Plugged In, a Community Computer Technology Access Center in East Palo Alto, for doing such absolutely great work on this web site.
Thanks to the invaluable help of Larry Stafford of Palo Alto, I now have a working IBM compatible personal computer. It is a 486 DX2/66 with 16 megs of RAM, a 14.4 modem and a 1.6 gig hard drive. I also have a laser printer and 8X CD ROM drive. This computer means that you can now send me E-mail with attachments, floppy disks with your correspondence or even a running commentary on the script.
I must also add that whenever I get a little frustrated with this project I thank my lucky stars that I live in a country that gives me constitutionally protected freedom of speech. Only in the land of the free and the home of the brave could I joyfully needle government officials while playing the role of environmental crusader, political gadfly, social critic, artist, writer, and movie maker.
I am absolutely committed to this project and we'll finish it or bust. There is a light at the end of the tunnel. Technical difficulties and delays are part and parcel of outdoor and volunteer productions. I thank the volunteers who made the last video shoot happen and your country thanks you, too.
---
Our ability to film in the summer of 2005 and deliver a quality product to homeowners, depends on the grant writing I'll be doing this Spring. To give you an idea of the difficulties inherant in this task, I studied the text of the entries of 21 corporate and foundation film and video donors in the back pages of the Film Arts Foundation magazine, "Release Print". I made some phone calls and soon eliminated at least 16 of those 21 corporations and foundations as candidates for a written proposal.
And those are the foundations that will consider a grant for a video project. The average foundation won't touch a video proposal. In a magazine like "Release Print", the ratio of proposals to available grants usually runs about thirty to one. This project is a round peg in a square hole and will be until hell freezes over or someone decides to give us a break. We will need all of the power of the web to clinch these deals and the support of donors large and small to ship the final product. I appreciate tips and suggestions from the grapevine and the patience of all of our long suffering project volunteers.
The process of gathering political support has culminated in a revived dialogue with the Sacramento Regional Foundation. Our momentum is still growing and our plans for a pilot project video are intact. Keep an eye on this web site for regular progress reports and links to related sites the world over. You'll soon be seeing major improvements to this web site in the form of sneak previews of the shoot at the plant nursery, more links, (over a hundred at last count) and additional sound effects.
My email address is

. My new phone number is (650) 473-9313 and unless the power goes out during a storm you should be able to reach me or leave a message on my machine. And I can always be reached by snail mail at PO Box 51852 Palo Alto, CA 94303.
Sincerely,
Steven P. Kennedy
Executive Producer
More information about charitable giving is available at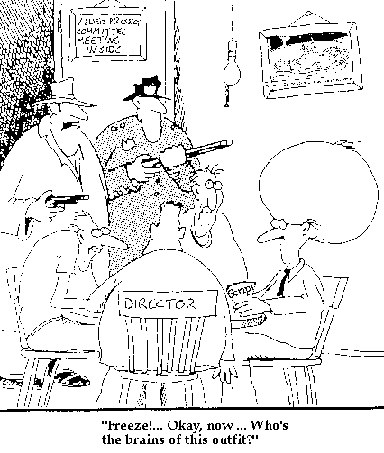 The Project / Politics Involved / Environmental Concerns / Thank You
---