E-mail

Cell
OBJECTIVE: To be a: Home Solar Consultant / Telecom Technician / Writer / Film Maker
EXPERIENCE:
Watch Part 2 of The Cannonball Express on Youtube






Using a logger's tool called a "peavey"
Visionary
Founded The Vegetation Management Video Project Committee to raise environmental awareness, promote vegetation management and prevent a billion dollar Berkeley Hills type fire from striking the San Francisco Bay Area. Developed concept, wrote 15 page script, built web site, solicited endorsements, hired cast, crew and director, scouted filming locations, obtained archival footage and coordinated all phases of post-production including editing and sound mixing. Also arranged venues for presentations to various stakeholders, secured cable casting in four different counties and submitted video to several local, regional and national film festivals.
---
Activist
Attended nearly all San Mateo County Fish & Wildlife Committee meetings since the advisory group formed, numerous Parks & Recreation Commission meetings, as well as Fish & Wildlife Commission meetings in neighboring counties.
---
Team Player
Worked with the Wildlands Restoration Team eradicating exotic invasive plant species in the Santa Cruz Mountain area State Parks. (Big Basin, Forest of Nicene Marks, Gray Whale, Sunset State Beach etc.) Also participated in Pescadero Creek Steelhead Habitat Enhancement Projects.
---
Volunteer
Obtained Department of Fish & Game permits before stocking Waterdog Lake with trout in the Belmont hills. December 1991
---
Ranch Hand
Marys River Ranch near Elko, Nevada. Drove a hay rake tractor rig and stacked hay. July to September 1981 and 1982
---
Fraternity Member and Officer (secretary)
Theta Chi Fraternity, 1977 to 1982. Used parliamentary procedure and took minutes of meetings. Performed all chapter correspondence with national office. Put out alumni newsletters. Cal State Stanislaus, Turlock, CA
---
Camp Counselor
Camp Greenmeadows February 1979. Taught wintertime nature studies and survival skills to 5th and 6th grade boys near Fish Camp, CA.
---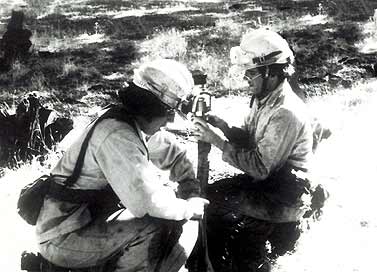 The author of The Cannonball Express "spins on a nozzle" during training
for the 1977 fire season. A rare lightning storm later that summer
put the author's crew on the road for 12 consecutive days, including
at least 3 days on the Mt. Diablo fire near Concord, CA.


Seasonal Firefighter
California Department of Forestry June to September 1977 and 1978. Wildlands, structural and vehicle, fire prevention and control at Howard Forest and Woodlands stations in Mendocino County. Watched Mt. Diablo burn (from the firelines) in August of 1977. Volunteered on 320 acre control burn at Big Basin State Park in October and November of 1997.
---
Volunteer
Student Conservation Association April to May 1977. Our work group rebuilt a rock wall corral, did trail work, removed old sections of water pipe and dug a leach field for a chemical toilet in Grand Canyon National Park in Arizona.
---
Corpsman
Youth Conservation Corps July to August 1976. Our work group built a footbridge, did extensive trail clearing, picked up roadside trash and painted a picket fence for an historic home restoration project near Whiskeytown Lake, due East of Redding, CA.
---
Student
California State University, Stanislaus Turlock, CA. BA English and minor in Political Science
Graduated May 1982
---
To be a: Home Solar Consultant / Telecom Technician / Writer / Film Maker